President's Message—January 2014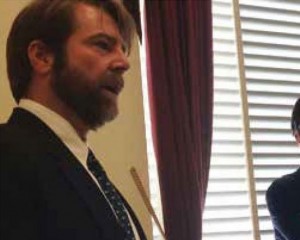 Hello Potomac Chapter members! It's been a little over a year since our last newsletter updating you on the goings on of our Chapter and a lot has occurred since then. After the fun day we all had in November 2012 at the first crab feast of the Potomac Chapter in a long time, the acting officers and I have been busy supporting fisheries issues important to us and to the AFS parent Chapter.
In the spring of 2013 the Chapter helped coordinate an AFS briefing to Congress on fisheries and climate change. We also met with the AFS President Bob Hughes and Executive Director Doug Austen and other AFS officers and staff last summer in a day-long discussion with agencies and non-governmental organizations committed to fisheries management. In addition, we hosted another fun-filled day of eating crabs and talking fisheries and family at the AFS headquarters in the fall.
We also have been hard at work looking for members interested in serving as Chapter officers to help advance the support of Chapter membership. I'm happy to say that we have identified a full complement of officers, and you can read their bios in this newsletter and vote for them today!
During my time as acting Potomac Chapter President I have been fortunate to have participated in so many interesting activities and to have met many of you along the way. Chapter members often bring up the great luncheons that the Potomac Chapter used to put on. The luncheons were used as a sounding board to discuss and debate current topics of interest to the membership. We would like to resurrect the
lunchtime seminars and want your help to come up with topics for the seminars. Please send us ideas on what you would like to discuss to [email protected].
You are the Chapter's greatest asset, so we hope that YOU might volunteer to present your work to get the seminar series started.
—Ward Slacum, Acting President, Potomac Chapter
This and other articles can be found in the Potomac Chapter Newsletter 2014-01.pdf